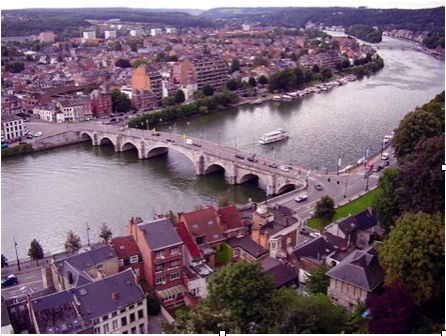 On April 19, 2018, the animators of the RIEH in Belgium, Jacques Briard, Luc Maréchal and Jean-Pierre Binamé organize two meetings in Namur, the administrative capital of Wallonia. They aim to present the vision and the approach of the human economy as well as the objectives of the International network for a human economy, drawing on the book Paths of Human economy. Yves Berthelot, one of the authors of the book, and Michel Tissier, Executive Secretary of the RIEH will intervene. The participants will mainly be students from the Lumen Vitae Centre and members of the Association of Mutual Aid and fraternity-living together and Church-Wallonia, a movement that is chaired by Luc Maréchal.
These organizations carry out actions of solidarity both at the international level, in particular in the Democratic Republic of the Congo and in Belgium. They are linked to the Catholic Church and make particular reference to the encyclicals Populorum Progresssio and Laudato Si but consider themselves "citizens of their region, Wallonia, and the world before being Christians". They have decided to participate in the network because they want to participate in exchanges with other organizations and people around the world who are referring to the Human Economy. The meetings will draw up the lines of an action plan of the RIEH Belgium group.
Course open to the public on Thursday, April 19, from 14 to 17h, at the International Centre Lumen Vitae, rue Grafe, 4, Namur.
Meeting from 7pm to 9pm, Room Tan, on the 3rd floor of the Centre Lilon, rue des Tanneries, 1, in Namur.
Contact: jacques@briard.be